Porcelain Veneers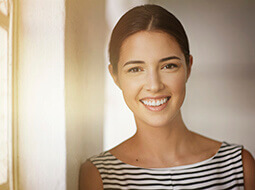 Cosmetic dentistry is transforming lives through complete smile makeovers, and porcelain veneers lead the list of aesthetic treatments as a wildly popular procedure. If you're considering porcelain veneers for a new smile, here's what you can expect…
The First Appointment
You will need to schedule an hour or two for your initial appointment, and you may want to take photos or magazine clippings to show the doctor the kind of smile you prefer. After a thorough examination to assess your oral health and existing teeth, your dentist will discuss with you the kind of smile you envision. Be prepared to discuss the color and shape of your ideal smile at this appointment.
The doctor will note the current shade of your teeth, your facial features, and measurements of your face. He'll consider your skin tone and facial symmetry when designing your veneers. If you have questions about your veneers or the procedure, he will be happy to give comprehensive answers.
Tooth Preparation
Often during the first appointment, your dentist will gently buff your teeth to remove 1 to 2mm of enamel in preparation for your new veneers. Tooth reduction will allow the veneers to lie flat, in line with surrounding teeth. Reshaping of teeth may also be required to create the look you want.
The doctor will take an impression of your mouth to send to the lab. Before you leave the dental chair, temporary veneers will be placed. Your teeth may feel sensitive until the permanent veneers are placed.
When the lab has constructed your custom veneers, we will have you return to our Montgomery, TX dental office for final placement.
Let us share our dental expertise with you! We can't wait to discuss your ideal smile, so call today to schedule your cosmetic dentistry consultation with Dr. John R. Montgomery. Located near beautiful Lake Conroe, Montgomery Dental Center has provided patients from Montgomery, Conroe, Willis, Magnolia, and surrounding areas with stunning cosmetic results.