Family Dentistry in Montgomery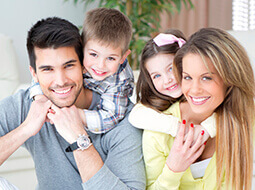 To last a lifetime, your smile needs a healthy and secure foundation. You and your family can maintain beautiful smiles with regular cleanings and checkups at Montgomery Dental Center. At your visits, we'll perform an oral cancer screening, evaluate your bite, and complete a periodontal (gum) assessment. We'll also check the integrity of your existing dental work, and periodically take digital X-rays to help catch any dental issues early so we can treat conservatively. Together, we'll create a treatment plan that optimizes your oral health and overall wellness.
Children's Preventive Dentistry
Our doctors recommend that children three and older be brought in for regular checkups. It's important to lay a good foundation for oral health while your kids are young, and we'll help make a positive impression of dental visits with a relaxed and fun atmosphere. Dr. Montgomery may recommend dental sealants to protect young teeth from decay-causing sugars. These sealants are clear coverings that we paint on the teeth, providing a protective barrier even on vulnerable hard-to-brush back teeth. Along with fluoride treatments, dental sealants ensure a strong defense in the fight against dental decay for your children.
Call our Montgomery, TX dental office today to schedule your appointment with Dr. John R. Montgomery Located near Lake Conroe, Montgomery Dental Center serves patients from Montgomery, Conroe, Willis, Magnolia, and surrounding areas with customized dentistry for smiles that last a lifetime.