Dental Implants
Teeth Replacement for the Montgomery and Conroe, TX areas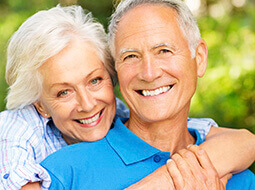 A revolutionary tooth-replacement option, implants closely mimic the natural structure of a tooth. Unlike traditional bridges, partials, or dentures, dental implants are anchored in the jawbone, providing amazing stability for the resulting restoration that tops it. Healthy surrounding teeth are not compromised or altered—instead, an implant post fits into the precise location left by your missing tooth. The flexibility of treatment options is vast, since dental implants can be used to replace one tooth or many. Individual crowns, a bridge, or a denture can be securely attached to dental implants.
Dental Implant Placement
Dr. Montgomery works closely with trusted oral surgeons for the implant procedure itself. As treatment progresses, your dentist will oversee the process, so you can rest comfortably in the knowledge that the doctor you trust is still directing your care.
After the initial assessment and treatment planning at Montgomery Dental Center, you will visit a specialist for the minor surgical procedure to place the implant post or posts. After the healing phase is complete, you'll return to our office so the dentist can fit your custom restoration onto the implant. We will make sure to discuss any questions you have about care and maintenance, so you can enjoy long term oral health and function from your dental implants.
Implant Dentures
Do you currently wear a denture, or are you planning to get one? If so, talk to our dentists about implant-retained dentures. Instead of the natural suction or denture adhesive that traditional dentures use to stay in place, dental implants are permanently anchored in your jaw for maximum stability and comfort. Your implant-retained dentures will look and feel more like natural teeth than you ever thought possible.
Dr. Montgomery will recommend an appropriate number of implants to keep your denture firmly in place. In most cases, we must fabricate new dentures for patients switching to implant-retained dentures. These dentures snap securely into place for a comfortable, reliable fit. Easy to care for, easy to wear—what's not to love? At Montgomery Dental Center, we're so happy to hear our patients talk about the improved quality of life they enjoy from a restored smile with dental implants.
A damaged smile needs the gentle touch of an experienced restorative dentist. If you need a solid tooth-replacement option, aesthetic crowns, or a complete smile makeover, call our office today to schedule your appointment with Dr. John R. Montgomery. Located near Lake Conroe, Montgomery Dental Center serves patients from Montgomery, Conroe, Willis, Magnolia, and surrounding areas with customized dentistry for lasting smiles.