Dentures & Partials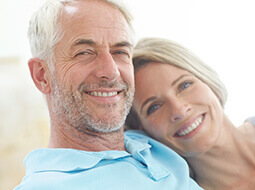 A smile just isn't a smile if it's incomplete. Missing teeth cause a host of problems, from difficulty speaking and eating to low self-confidence to jawbone deterioration. Don't give up on your smile. Advances in dental materials and technology have made full and partial dentures more lifelike and comfortable than ever.
What is a Partial?
A partial denture, commonly referred to as simply a partial, is made when a patient has some missing teeth. The partial is a removal appliance constructed to replace the missing teeth while attaching to the remaining natural teeth.
What is a Denture?
A denture is a custom-made, removable appliance for replacing missing teeth and surrounding tissue. A complete denture is used when the patient is missing all their teeth.
Implant-Supported Dentures and Partials
Dental implants are small titanium posts anchored into the jawbone. If you prefer a secure full or partial denture, then consider implant-supported dentures. In a brief surgery, an implant dentist can secure a few dental implant posts to hold your dentures in place. With implant-supported dentures, you won't have to worry about slippage, and your prosthetic will feel safe and sound.
Dentures aren't what they used to be. New advances in dentistry enable us to improve the fit, comfort, and appearance of dentures. We're committed to providing you with excellence in dental care at reasonable fees. We want to help you to maintain optimal chewing function and a pleasant smile for a lifetime.
A damaged smile needs the gentle touch of an experienced restorative dentist. If you need a solid tooth-replacement option, aesthetic crowns, or a complete smile makeover, call our office today to schedule your appointment with Dr. John R. Montgomery. Located near Lake Conroe, Montgomery Dental Center serves patients from Montgomery, Conroe, Willis, Magnolia, and surrounding areas with customized dentistry for lasting smiles.